This private neighborhood is exclusive to only 29 two to four acre home sites with an abundance of  green space featuring wooded conservation areas and creeks for ultimate privacy.  When you choose Birmingham Estates, you will feel like you have come home to a home that truly showcases your personal style and taste with fabulous features like open floor plans, chef's kitchens, upgraded trim packages, basements, three car garages and breathtaking outdoor living spaces.
Ideally located within minutes of Alpharetta, Milton and Woodstock, Birmingham Estates is located in the beautiful city of Canton in Cherokee County.  Homeowners with children will attend Avery Elementary, Creekland Middle School and Creekview High School with an enviable rating of 9 out of 10 on GreatSchools.org.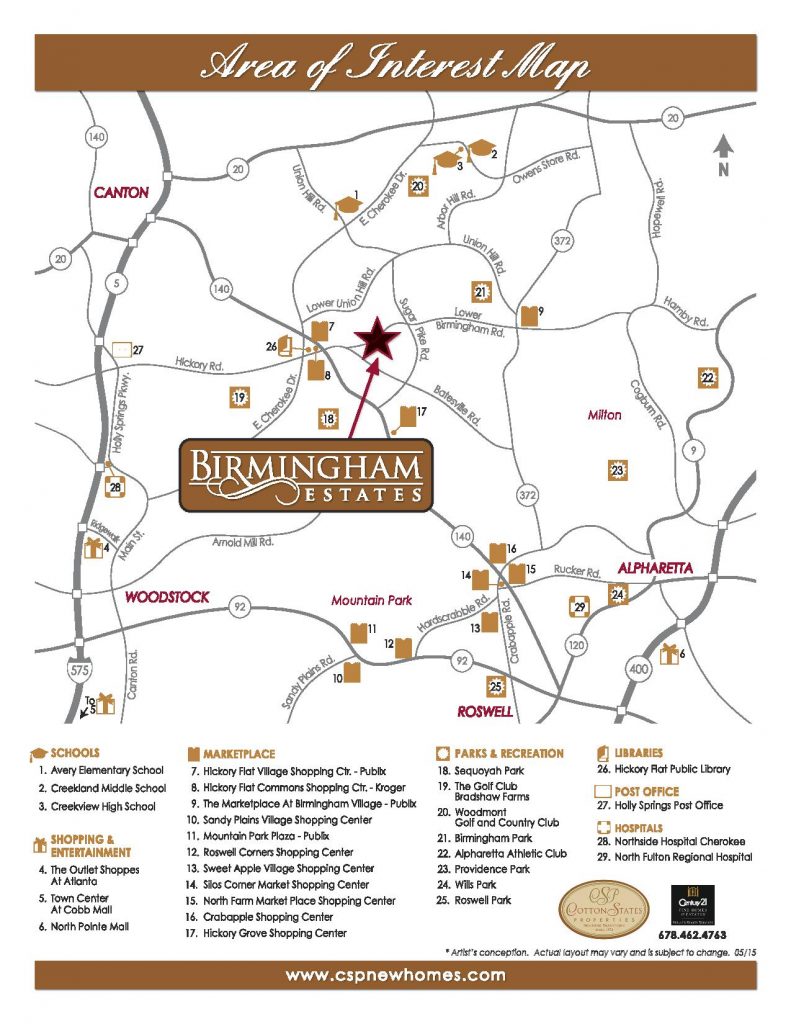 Canton, the county seat of Cherokee County, was incorporated in 1833. It was also the heart of the Cherokee Indian society. Canton saw major change during the summer of 1838, when the federal government, with the full authority of President Andrew Jackson, forcefully removed the region's Cherokee people and sent the tribe west on the Trail of Tears.
Presently, Canton is undergoing another major change as population growth encourages the town to build out further.
There are many things to see and do in Canton. Plan to stroll through the Historical Downtown District, look at an array of historical artifacts at the Cherokee County History Museum and fine art at the Cherokee County Arts Center, as well as gift items created by local artisans and vendors throughout the Downtown area. Known for hospitality, Canton has many unique qualities, as well as a variety of recreational activities to keep you busy. Be sure to take advantage of our walking path in Heritage Park and the year-round activities throughout the City. If it is history that fascinates you, there are numerous historical landmarks for your exploration. Enjoy Canton!